Post Syndicated from Alex Bate original https://www.raspberrypi.org/blog/fiveish-awesome-retropie-builds/
If you've yet to hear about RetroPie, how's it going living under that rock?
RetroPie, for the few who are unfamiliar, allows users to play retro video games on their Raspberry Pi or PC. From Alex Kidd to Ecco the Dolphin, Streets of Rage 2 to Cool Spot, nostalgia junkies can get their fill by flashing the RetroPie image to their Pi and plugging in their TV and a couple of USB controllers.
But for many, this simple setup is not enough. Alongside the RetroPie unit, many makers are building incredible cases and modifications to make their creation stand out from the rest.
Here's five of what I believe to be some of the best RetroPie builds shared on social media:
1. Furniture Builds
If you don't have the space for an arcade machine, why not incorporate RetroPie into your coffee table or desk?
This 'Mid-century-ish Retro Games Table' by Reddit user GuzziGuy fits a screen and custom-made controllers beneath a folding surface, allowing full use of the table when you're not busy Space Raiding or Mario Karting.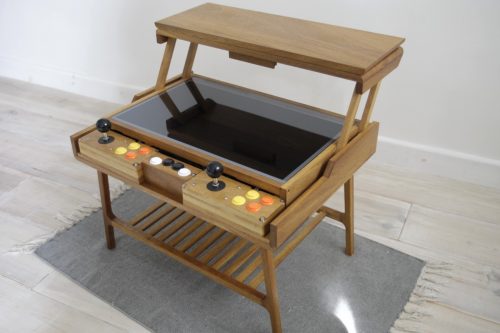 2. Arcade Cabinets
While the arcade cabinet at Pi Towers has seen better days (we have #LukeTheIntern working on it as I type), many of you makers are putting us to shame with your own builds. Whether it be a tabletop version or full 7ft cabinet, more and more RetroPie arcades are popping up, their builders desperate to replicate the sights of our gaming pasts.
One maker, YouTuber Bob Clagett, built his own RetroPie Arcade Cabinet from scratch, documenting the entire process on his channel.
With sensors that start the machine upon your approach, LED backlighting, and cartoon vinyl artwork of his family, it's easy to see why this is a firm favourite.
Check out how I made this fully custom arcade cabinet, powered by a Raspberry Pi, to play retro games! Subscribe to my channel: http://bit.ly/1k8msFr Get digital plans for this cabinet to build your own!
3. Handheld Gaming
If you're looking for a more personal gaming experience, or if you simply want to see just how small you can make your build, you can't go wrong with a handheld gaming console. With the release of the Raspberry Pi Zero, the ability to fit an entire RetroPie setup within the smallest of spaces has become somewhat of a social media maker challenge.
Chase Lambeth used an old Burger King toy and Pi Zero to create one of the smallest RetroPie Gameboys around… and it broke the internet in the process.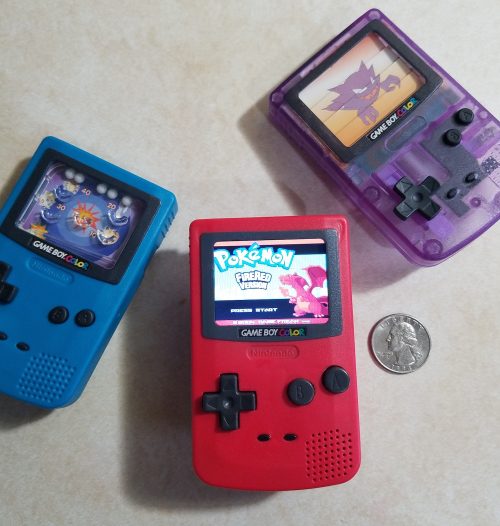 4. Console Recycling
What better way to play a retro game than via a retro game console? And while I don't condone pulling apart a working NES or MegaDrive, there's no harm in cannibalising a deceased unit for the greater good, or using one of many 3D-printable designs to recreate a classic.
Here's YouTuber DaftMike's entry into the RetroPie Hall of Fame: a mini-NES with NFC-enabled cartridges that autoplay when inserted.
This is a demo of my Raspberry Pi 'NES Classic' build. You can see photos, more details and code here: http://www.daftmike.com/2016/07/NESPi.html Update video: https://youtu.be/M0hWhv1lw48 Update #2: https://youtu.be/hhYf5DPzLqg Electronics kits are now available for pre-order, details here: http://www.daftmike.com/p/nespi-electronics-kit.html Build Guide Update: https://youtu.be/8rFBWdRpufo Build Guide Part 1: https://youtu.be/8feZYk9HmYg Build Guide Part 2: https://youtu.be/vOz1-6GqTZc New case design files: http://www.thingiverse.com/thing:1727668 Better Snap Fit Cases!
5. Everything Else
I can't create a list of RetroPie builds without mentioning the unusual creations that appear on our social media feeds from time to time. And while you may consider putting more than one example in #5 cheating, I say… well, I say pfft.
Example 1 – Sean (from SimpleCove)'s Retro Arcade
It felt wrong to include this within Arcade Cabinets as it's not really a cabinet. Creating the entire thing from scratch using monitors, wood, and a lot of veneer, the end result could easily have travelled here from the 1940s.
I've wanted one of these raspberry pi/retro pi arcade systems for a while but wanted to make a special box to put it in that looked like an antique table top TV/radio. I feel the outcome of this project is exactly that.
Example 2 – the HackerHouse Portable Console… built-in controller… thing
The team at HackerHouse, along with many other makers, decided to incorporate the entire RetroPie build into the controller, allowing you to easily take your gaming system with you without the need for a separate console unit. Following on from the theme of their YouTube channel, they offer a complete tutorial on how to make the controller.
Find out how to make an easy portable arcade console (cabinet) using a Raspberry Pi. You can bring it anywhere, plug it into any tv, and play all your favorite classic ROMs. This arcade has 4 general buttons and a joystick, but you can also plug in any old usb enabled controller.
Example 3 – Zach's PiCart
RetroPie inside a NES game cartridge… need I say more?
I put a Raspberry Pi Zero (and 2,400 vintage games) into an NES cartridge and it's awesome. Powered by RetroPie. I also wrote a step-by-step guide on howchoo and a list of all the materials you'll need to build your own: https://howchoo.com/g/mti0oge5nzk/pi-cart-a-raspberry-pi-retro-gaming-rig-in-an-nes-cartridge
Here's a video to help you set up your own RetroPie. What games would you play first? And what other builds have caught your attention online?
The post Five(ish) awesome RetroPie builds appeared first on Raspberry Pi.