Post Syndicated from Andy original https://torrentfreak.com/japan-pirate-site-traffic-collapsed-50-in-four-months-with-a-little-help-from-cloudflare-191108/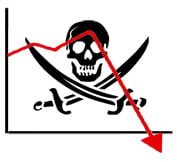 During April 2018, the government in Japan introduced emergency websites blocking measures, seeking assistance from ISPs to block three pirate sites – Mangamura, AniTube! and MioMio.
Just four days later, one of the sites – giant manga platform Mangamura – suddenly called it quits, shutting itself down and creating a massive gap in the piracy market.
It transpired that a criminal investigation was underway into the activities of Mangamura, which eventually led to the arrest of the site's alleged operator in Manilla, his deportation to Japan, and subsequent arrest by authorities there.
The gigantic scale of Mangamura has never been in question. However, a report published by the Motion Picture Association now reveals its importance not only on the pirate manga market, but also on the pirate market overall in Japan.
Starting with a list of 2,600 sites, the report – covering the period July 2017 to July 2019 – homes in on the most frequently accessed piracy sites/apps targeting Japan that offer movies, TV shows, anime, and manga content. Sites focusing exclusively on music, games, and porn were ruled out, leaving a balance of 1,447 'pirate' sites.
The top 10 most highly-visited sites accounted for around 50% of visits to the 1,447, with the top 100 accounting for more than 90%. All sites with more than 100,000 visits per month (624 in total) were the main focus of the report.
In respect of Mangamura, the report classifies that now-defunct platform as an 'online reading' site, meaning that people viewed its content using a browser. The chart below shows the dramatic rise and fall of the niche the platform operated in, plotted against other forms of 'pirate' consumption.
As the image shows, in addition to 'online reading' sites, all other types of 'pirate' consumption took a big hit around the same time that Mangamura shut down.
The report notes that the government's urging of ISP blockades against Mangamura, Anitube, and MioMio "greatly affected the number of visits to other piracy sites", resulting in an overall decrease in traffic. However, it appears that all three shut down before they could be blocked.
Nevertheless, the overall effect on the pirate markets detailed in the study appears to be significant, due to the shutdown of those major manga platforms and the government's anti-piracy stance.
According to the report, in March 2018 the total number of monthly visits to the sample 624 sites was measured at 640 million. A month later, monthly visits had collapsed to just over 400 million. By June 2018, traffic had reduced further still, to a low of 320 million visits per month.
Since June 2018, there has only been a modest increase in traffic to the sample sites. Noting that overall levels of infringement are "still large", the report states that current visits have increased by just 20 million, to an estimated 340 million per month.
Finally, no piracy report seems complete these days without Cloudflare getting a mention, and this one is no different.
While those who carried out the study were able to identify the ultimate hosting locations of 39% of the 624 pirate sites (top three hosting countries were the United States 9%, Japan 6%, and Netherlands 5%), 61% couldn't be geolocated. Of these, 86% were 'hidden' behind Cloudflare's services.
The interesting twist, however, is that in response to a request from Japanese publishers, it was Cloudflare that handed over information which allowed investigators to identify the operator of Mangamura, which ultimately led to his arrest and previously, the shutdown of the site.
The full report, 'Study Benchmarking and Tracking Online Film & TV Piracy in Japan', is available here (pdf)
Source: TF, for the latest info on copyright, file-sharing, torrent sites and more. We also have VPN reviews, discounts, offers and coupons.