Post Syndicated from Alex Bate original https://www.raspberrypi.org/blog/ten-freakin-bucks-zero-w-aftermath/
Tuesday saw the launch of our brand-new $10 Raspberry Pi Zero W, the next step in the evolution of our tiniest computer, now equipped with wireless LAN and Bluetooth.
looks around house* "I've got too many SBCs. Really must get rid of some…" *new @Raspberry_Pi Zero W released* "SHUT UP AND TAKE MY MONEY!
As we hoped, the Zero W was very well received, with units flying off the virtual shelves of our official distributors.
Over 4000 #PiZeroW in first batch of parcels for the postie.
By close of business on launch day, Zero Ws were winging their way to tens of thousands of excited makers, all eager to retrofit their existing Zero projects, or find new ways to build with the updated tech.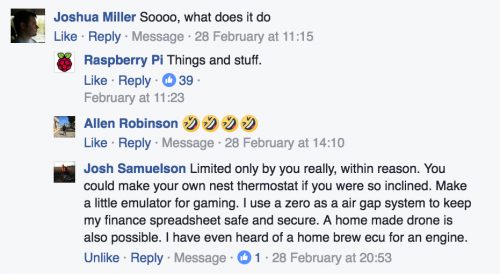 We wanted to highlight some of the best responses we've received over the last few days: a mix of tweets, status updates and videos that made us smile.
Andy definitely wins the prize for most excitable launch day video. His enthusiasm is infectious!
Today, Raspberry Pi launched the Pi Zero W, an upgrade to their $10 Pi Zero, adding Wi-Fi and Bluetooth to the tiny computer. For the full episode, visit twit.tv/mbw/548
Pi Borg wasted no time in fitting the Zero W into one of their Pololu kits. We're looking forward to seeing it in action at the Big Birthday Weekend on Saturday.
We've built a robot using the new Raspberry Pi Zero W, a Pololu kit hacked to fit some bigger motors and our secret new motor controller being revealed on Friday… stay tuned! http://www.piborg.org
Raspberry Pi Foundation CEO Philip Colligan took the Zero W along with him yesterday when he joined the Secretary of State for Culture, Media and Sport to help launch the UK Government's Digital Strategy.
CreativityIsGREAT DEFINED. @philipcolligan on @Raspberry_Pi launched with #UKDigitalStrategy @dcms @beisgovuk @MattHancockMP @BBCRoryCJ https://t.co/6s2Loetqwj
And there's always an eruption of excitement from the Comms team when Wil jumps on board!
Oh boy!! @Raspberry_Pi zero with WiFi on-board is available, and @pimoroni has some really neat kits!! https://t.co/dqQzE5KHyD
We also saw some brilliant launch videos from members of our community.
On the 5th anniversary of the launch of the original Raspberry Pi in 2012, the Foundation have decided to treat the community with a brand new product. A fork of the Pi Zero, but with added WiFi and Bluetooth, say hello to the Raspberry Pi Zero Wireless!
Raspberry Pi Zero W newly launched today sports WiFi and Bluetooth and costs $10 + shipping and taxes. More information here http://raspi.tv/?p=9964 Also a brand new case.
We even became a Twitter Moment which, for many of us avid Tweeters, was kinda a big deal. Plus, well… pizza.
The Raspberry Pi has sold more than 12 million devices around the world in various forms. The latest – the Pi Zero W – solves a key problem with the original by adding built-in wireless LAN and bluetooth functionality.
All in all, a great fifth birthday launch day was had by all.
I would love to take a moment to wish @Raspberry_Pi a very happy 5th birthday! Congratulations to everyone that works so hard to give us Pi
If you ordered a Pi Zero W, make sure you share your projects with us across all social media or in the comments below. We can't wait to see what you get up to with our newborn bundle of joy!
The post TEN BUCKS! TEN FREAKIN' BUCKS! Zero W aftermath appeared first on Raspberry Pi.