Post Syndicated from Veronica Cucuiat original https://www.raspberrypi.org/blog/primary-computing-programming-literacy-storytelling/
Broadening participation and finding new entry points for young people to engage with computing is part of how we pursue our mission here at the Raspberry Pi Foundation. It was also the focus of our March online seminar, led by our own Dr Bobby Whyte. In this third seminar of our series on computing education for primary-aged children, Bobby presented his work on 'designing multimodal composition activities for integrated K-5 programming and storytelling'. In this research he explored the integration of computing and literacy education, and the implications and limitations for classroom practice.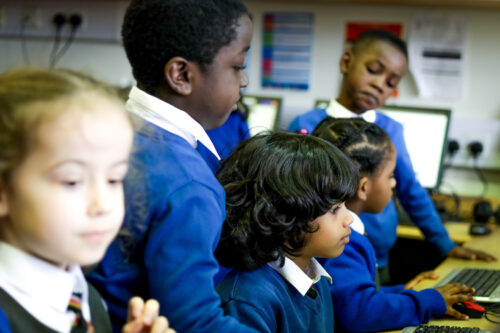 Motivated by challenges Bobby experienced first-hand as a primary school teacher, his two studies on the topic contribute to the body of research aiming to make computing less narrow and difficult. In this work, Bobby integrated programming and storytelling as a way of making the computing curriculum more applicable, relevant, and contextualised.
Critically for computing educators and researchers in the area, Bobby explored how theories related to 'programming as writing' translate into practice, and what the implications of designing and delivering integrated lessons in classrooms are. While the two studies described here took place in the context of UK schooling, we can learn universal lessons from this work.
What is multimodal composition?
In the seminar Bobby made a distinction between applying computing to literacy (or vice versa) and true integration of programming and storytelling. To achieve true integration in the two studies he conducted, Bobby used the idea of 'multimodal composition' (MMC). A multimodal composition is defined as "a composition that employs a variety of modes, including sound, writing, image, and gesture/movement [… with] a communicative function".
Storytelling comes together with programming in a multimodal composition as learners create a program to tell a story where they:
Decide on content and representation (the characters, the setting, the backdrop)
Structure text they've written
Use technical aspects (i.e. motion blocks, tension) to achieve effects for narrative purposes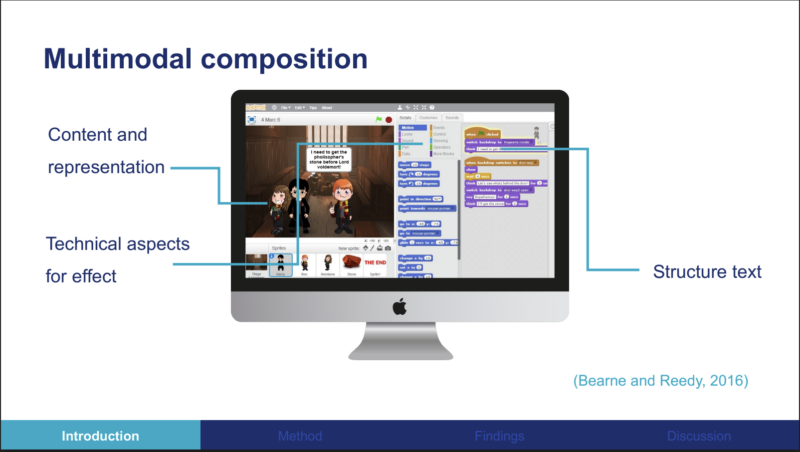 Multimodality for programming and storytelling in the classroom
To investigate the use of MMC in the classroom, Bobby started by designing a curriculum unit of lessons. He mapped the unit's MMC activities to specific storytelling and programming learning objectives. The MMC activities were designed using design-based research, an approach in which something is designed and tested iteratively in real-world contexts. In practice that means Bobby collaborated with teachers and students to analyse, evaluate, and adapt the unit's activities.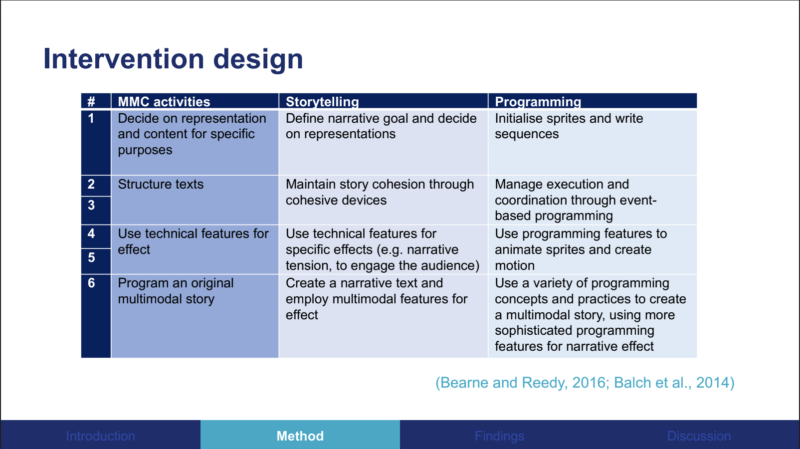 The first of two studies to explore the design and implementation of MMC activities was conducted with 10 K-5 students (age 9 to 11) and showed promising results. All students approached the composition task multimodally, using multiple representations for specific purposes. In other words, they conveyed different parts of their stories using either text, sound, or images.
Bobby found that broadcast messages and loops were the least used blocks among the group. As a consequence, he modified the curriculum unit to include additional scaffolding and instructional support on how and why the students might embed these elements.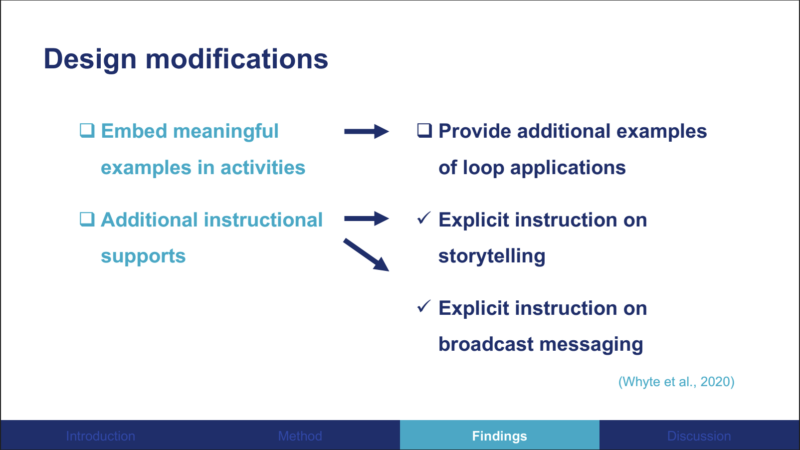 In the second study, the MMC activities were evaluated in a classroom of 28 K-5 students led by one teacher over two weeks. Findings indicated that students appreciated the longer multi-session project. The teacher reported being satisfied with the project work the learners completed and the skills they practised. The teacher also further integrated and adapted the unit into their classroom practice after the research project had been completed.
How might you use these research findings?
Factors that impacted the integration of storytelling and programming included the teacher's confidence to teach programming as well as the teacher's ability to differentiate between students and what kind of support they needed depending on their previous programming experience.
In addition, there are considerations regarding the curriculum. The school where the second study took place considered the activities in the unit to be literacy-light, as the English literacy curriculum is 'text-heavy' and the addition of multimodal elements 'wastes' opportunities to produce stories that are more text-based.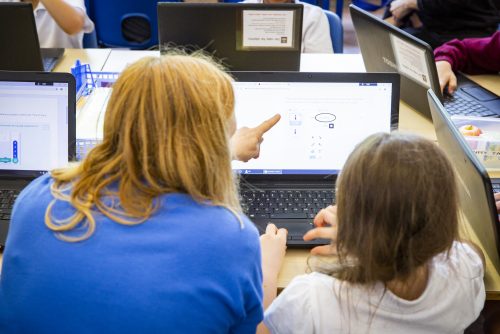 Bobby's research indicates that MMC provides useful opportunities for learners to simultaneously pursue storytelling and programming goals, and the curriculum unit designed in the research proved adaptable for the teacher to integrate into their classroom practice. However, Bobby cautioned that there's a need to carefully consider both the benefits and trade-offs when designing cross-curricular integration projects in order to ensure a fair representation of both subjects.
Can you see an opportunity for integrating programming and storytelling in your classroom? Let us know your thoughts or questions in the comments below.
You can watch Bobby's full presentation:
And you can read his research paper Designing for Integrated K-5 Computing and Literacy through Story-making Activities (open access version).
You may also be interested in our pilot study on using storytelling to teach computing in primary school, which we conducted as part of our Gender Balance in Computing programme.
Join our next seminar on primary computing education
At our next seminar, we welcome Kate Farrell and Professor Judy Robertson (University of Edinburgh). This session will introduce you to how data literacy can be taught in primary and early-years education across different curricular areas. It will take place online on Tuesday 9 May at 17.00 UK time, don't miss out and sign up now.
Yo find out more about connecting research to practice for primary computing education, you can find other our upcoming monthly seminars on primary (K–5) teaching and learning and watch the recordings of previous seminars in this series.
The post Integrating primary computing and literacy through multimodal storytelling appeared first on Raspberry Pi Foundation.