Post Syndicated from The HiveMQ Team original https://www.hivemq.com/blog/mqtt-5-introduction-to-mqtt-5/
Introduction to MQTT 5
Welcome to our brand new blog post series MQTT 5 – Features and Hidden Gems. Without doubt, the MQTT protocol is the most popular and best received Internet of Things protocol as of today (see the Google Trends Chart below), supporting large scale use cases ranging from Connected Cars, Manufacturing Systems, Logistics, Military Use Cases to Enterprise Chat Applications, Mobile Apps and connecting constrained IoT devices. Of course, with huge amounts of production deployments, the wish list for future versions of the MQTT protocol grew bigger and bigger.
MQTT 5 is by far the most extensive and most feature-rich update to the MQTT protocol specification ever. We are going to explore all hidden gems and protocol features with use case discussion and useful background information – one blog post at a time.
Be sure to read the MQTT Essentials Blog Post series first before diving into our new MQTT 5 series. To get the most out of the new blog posts, it's important to have a basic understanding of the MQTT 3.1.1 protocol as we are going to highlight key changes as well as all improvements.
The revival of the MQTT Monday
Some of our longtime readers will remember the MQTT Monday introduced by our older blog post series: MQTT Essentials, MQTT Security Fundamentals, MQTT Client Library Encyclopedia and the MQTT Toolbox.
If you liked the format, we have fantastic news for you: We'll release a new MQTT 5 blog post, each one highlighting a specific feature, key change or fun trivia regarding MQTT 5, every Monday. Just subscribe to the weekly newsletter below if you want us to send the articles straight to your inbox.
MQTT History
Let's have a look at the history of MQTT first: Although the MQTT protocol was invented in 1999, its triumphant march began years later, in 2010, when it was released to the public under a royalty free license as protocol version 3.1. Four years after the initial public release, MQTT 3.1.1 was released as an OASIS and ISO standard in 2014. The 3.1.1 version included predominantly clarifications and minor protocol improvements. At the time of writing (December 2017), the MQTT 5 specification closed its second public review phase at OASIS and is expected to be released in a final version in early 2018.
MQTT 5 Design Goals
The Technical Committee (TC) responsible for specifying and standardizing MQTT at OASIS mastered a balancing act: How to advance the protocol in a way that the protocol would stay as lightweight and easy to use as it was in 3.1.1 and still add features demanded by longtime users without adding unnecessary complexity and without sacrificing performance and scalability.
The goals for the MQTT 5 specification were articulated by the OASIS TC as follows:
Enhancement for scalability and large scale systems
Improved error reporting
Formalize common patterns including capability discovery and request response
Extensibility mechanisms including user properties
Performance improvements and support for small clients
With these goals in mind, the TC managed to specify some extremely useful new features that came from requirements of MQTT 3.1.1 production deployments. The TC also added features back to the standard that sophisticated broker implementations like HiveMQ already provided for MQTT 3.1.1. Popular features like Shared Subscriptions and Time to Live for Messages and Client Sessions are now part of the standard.
An interesting goal of the new specification is the "Enhancement for scalability and large scale systems". Some new MQTT behaviors allow simple broker implementations to enhance scalability. Enterprise MQTT Brokers like HiveMQ showed that MQTT 3.1.1 is one of the most scalable stateful IoT protocols in the world by benchmarking 10.000.000 MQTT simultaneous connections on cloud infrastructure for a single MQTT broker cluster. The new version of the protocol is designed to make it even easier to scale to immense amounts of concurrent connected clients for brokers.
Trivia: Why Protocol Version 5?
Some readers might ask: Why is the successor of MQTT 3.1.1 called "MQTT 5"?
The answer is surprisingly simple: The MQTT protocol defines a fixed header in the CONNECT packet. This header contains a single byte value for the protocol version.
If you would inspect the CONNECT packet on the wire, you would make an interesting observation: While MQTT 3.1 had the value '3' as protocol version, MQTT 3.1.1 used the value '4'. In order to streamline the protocol version on the wire and the official protocol version name, both now use the number 5.
Is it time to upgrade yet?
You might wonder: Should I upgrade yet?
Next week's blog post will provide a detailed look at this question. If you'd like to receive the next and all upcoming articles directly in your inbox, just use the newsletter subscribe form below.
We hope you enjoyed this first part of the new series. Let us know what you think and what you would like to see in future blog posts in the comment section below.
You like the MQTT 5 Series? Then sign up for our newsletter and get notified on all new posts as soon as they are available. If you prefer RSS, you can subscribe to our RSS feed here.
Have an awesome week,
The HiveMQ Team
Post Syndicated from Ernesto original https://torrentfreak.com/ettv-how-an-upload-bot-became-a-pirate-hero-171210/
Earlier this year, the torrent community was hit hard when another major torrent site suddenly shut its doors.
Just a few months after celebrating its tenth anniversary, ExtraTorrent's operator threw in the towel. While an official explanation was never provided, it's likely that he was pressed to make this decision.
The ExtraTorrent site was a safe harbor for millions of regular users, who became homeless overnight. But it was more than that. It was also the birth ground of several popular releasers and distribution groups.
ETTV and ETHD turned into well-known brands themselves. While the ET is derived from ExtraTorrent, the groups have shared TV and movie torrents on several other large torrent sites, and they still do. They even have their own site now.
With millions of people sharing their uploads every week, they've become icons and heroes to many. But how did this all come to be? We sat down with the team, virtually, to find out more.
"The idea for ettv/ethd was brought up by ExtraTorrent users," the ETTV team says.
There was demand for a new group that would upload scene releases faster than the original EZTV, which was the dominant TV-torrent distribution group around 2011, when it all started.
"At the time the real EZTV was still active. They released stuff hours after it was released from the scene, leaving sites to wait very long for shows to arrive in public. In no way was ettv intended for competitive purposes. We had a lot of respect for Nova and the original EZTV operators."
While ETTV is regularly referred to as a "group," it was a one-person operation initially. Just a guy with a seedbox, grabbing scene releases and posting them on torrent sites.
It didn't take long before people got wind of the new distribution 'group,' and interest for the torrents quickly exploded. This meant that a single seedbox was no longer sufficient, but help was not far away.
"It started off with one operator and a seedbox, but it became popular too fast. That's when former ExtraTorrent owners stepped in to give ETTV the support and funding it needed to keep the story going."
One of the earliest ETTV uploads on ExtraTorrent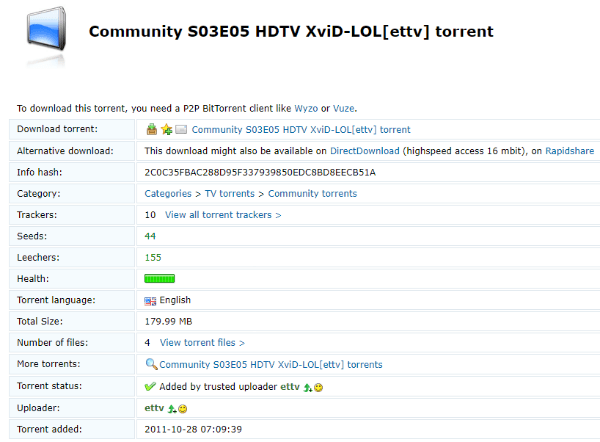 In addition to the available disk space and bandwidth, the team itself expanded as well. At its height, a handful of people were working on the group. However, when things became more and more automated this number reduced again.
What many people don't realize is that ETTV and ETHD are mostly run by lines of code. The entire distribution process is automated and requires minimal intervention from the people behind it.
"Ettv/Ethd is a bot, it doesn't require human attention. It grabs what you tell the script to," the team tells us.
The bot is set up to grab the latest copies of predefined shows from private servers where the latest scene release are posted. These are transferred to the seedbox and the torrents are then pushed out to the public – on ETTV.tv, but also on The Pirate Bay and elsewhere. Everything is automated.
Even most of the maintenance is taken care of by the 'bot' itself. When disk space is running out older content is purged, allowing fresh releases to come through.
"The only persons involve with the bots are the bill payers of our new home ettv.tv. All they do check bot logs to see if it has any errors and correct them," the team explains.
One problem that couldn't be easily solved with some code was the shutdown of ExtraTorrent. While the bills for the seedboxes were paid in advance until the end of 2017, the groups had to find a new home.
"The shutdown of ExtraTorrent didn't affect the bots from running, it just left ettv/ethd homeless and caused fans to lose their way trying to find us. Not many knew where else we uploaded or didn't like the other sites we uploaded to."
After a few months had passed it became clear that they were not going anywhere. Quite the contrary, they started their very own site, ETTV.tv, where all the latest releases are published.
ETTV.tv
In the near future, the team will focus on turning the site into a new home for its followers. Just a few weeks ago it launched a new release "tag," ETMovies, which specializes in lower resolution films with a smaller file size, for example.
"We recently introduced ETMovies which is basically for SD Movies, other than that the only plan ettv/ethd has is to give a home to the members that suffered from the sudden shut down of ExtraTorrent."
Just this week, the site also expanded its reach by adding new categories such as music, games, software, and Books, where approved uploaders will publish content.
While they are doing their best to keep the site up and running, it's not a given that ETTV will be around forever. As long as there are plenty of funds and no concrete legal pressure they might. But if recent history has shown us anything, it's that there are no guarantees.
"No one is here seeking to be a millionaire, if the traffic pays the bills we keep going, if not then all we can say is (sorry we tried) we will not be the heroes that saved the day.
"Again and again, the troublesome history of torrent sites is clear. It's a war no site owner can win. If we are ever in danger, we will choose freedom. It's not like followers can bail you out if the worst were to happen," the ETTV team concludes.
For now, however, the bot keeps on running.
Source: TF, for the latest info on copyright, file-sharing, torrent sites and more. We also have VPN discounts, offers and coupons
The collective thoughts of the interwebz