Post Syndicated from Alex Bate original https://www.raspberrypi.org/blog/meet-laura-kampf-wood-and-metalworker/
Laura Kampf, the Köln-based wood and metalworker with a mild tiny house and Leatherman obsession sat down (virtually) with Alex Bate to talk about prison tattoo machines, avoiding your nightmares, and why aggressive hip-hop and horror movies inspire her weekly project builds.
Smudo the workshop dog was also there, which seems to be becoming a recurring and pleasant feature of HackSpace magazine interviews.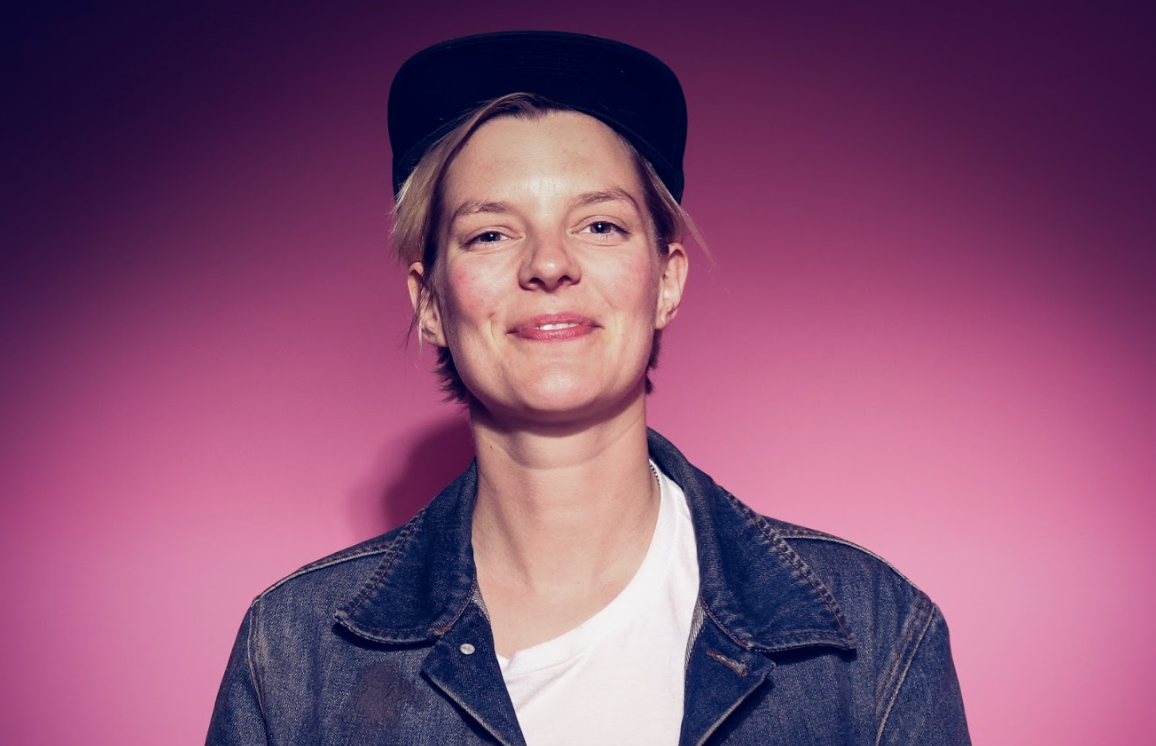 Alex: Your videos feel very unique in how they're produced. It feels as though we're in the workshop watching you get on with your day. That you'd be doing this regardless of whether the camera was there or not.
Laura: Yeah, that's absolutely it. I mean, I document it for YouTube because I'm aware that this is the only place for me. And the documentation, that's the work part, like setting up the camera, thinking about the story. But the physical work of building something, that's a form of meditation. That's just my happy place. And I know I have to document my work because I have to do something to make a living, right? I can't just play. So YouTube is my work. But making is just, it's just what I do, and I feel more and more that this is the only place for me.
And this is probably how musicians feel when they are performing on stage. You know, this – being in my shop, I feel so comfortable. And I feel so good. I don't have that anywhere else.
I remember seeing that you went to design school. Is that where your journey as a maker started or does creativity run in your family? I know your brother is creative (instagram.com/zooburger), but what about your parents?
My brother is super-creative, but my parents, not so much. My grandfather was an engineer. So I think
it kind of skipped a generation.
In design school, there was a project where we had to build something out of everyday objects. And it was for us, the designers, to get away from the computers and just do something with our hands. I built a tattoo machine, like a prison-style tattoo machine. And I was hooked. I remember coming home and I was so moved by the whole thing. Even though the machine looks terrible, everything fell into place.
Because all my life, people were telling me you need to find this one thing that you're really good at and then just keep doing that. I think it's also a German thing, you know, like, be perfect at one thing, and then you'll be the best in your field. And I could never focus on one thing and building this tattoo machine; there were so many different things coming together.
I had all this interest in so many different fields and I could use them for the project – I enjoyed drawing fonts and learned how to do old-school tattoo lettering, and I could do a little bit of electronics to hook up a switch. All these things, I thought it was super-interesting. It was the first time I could just use little bits of everything I knew to make something that was really cool, and I was hooked after that.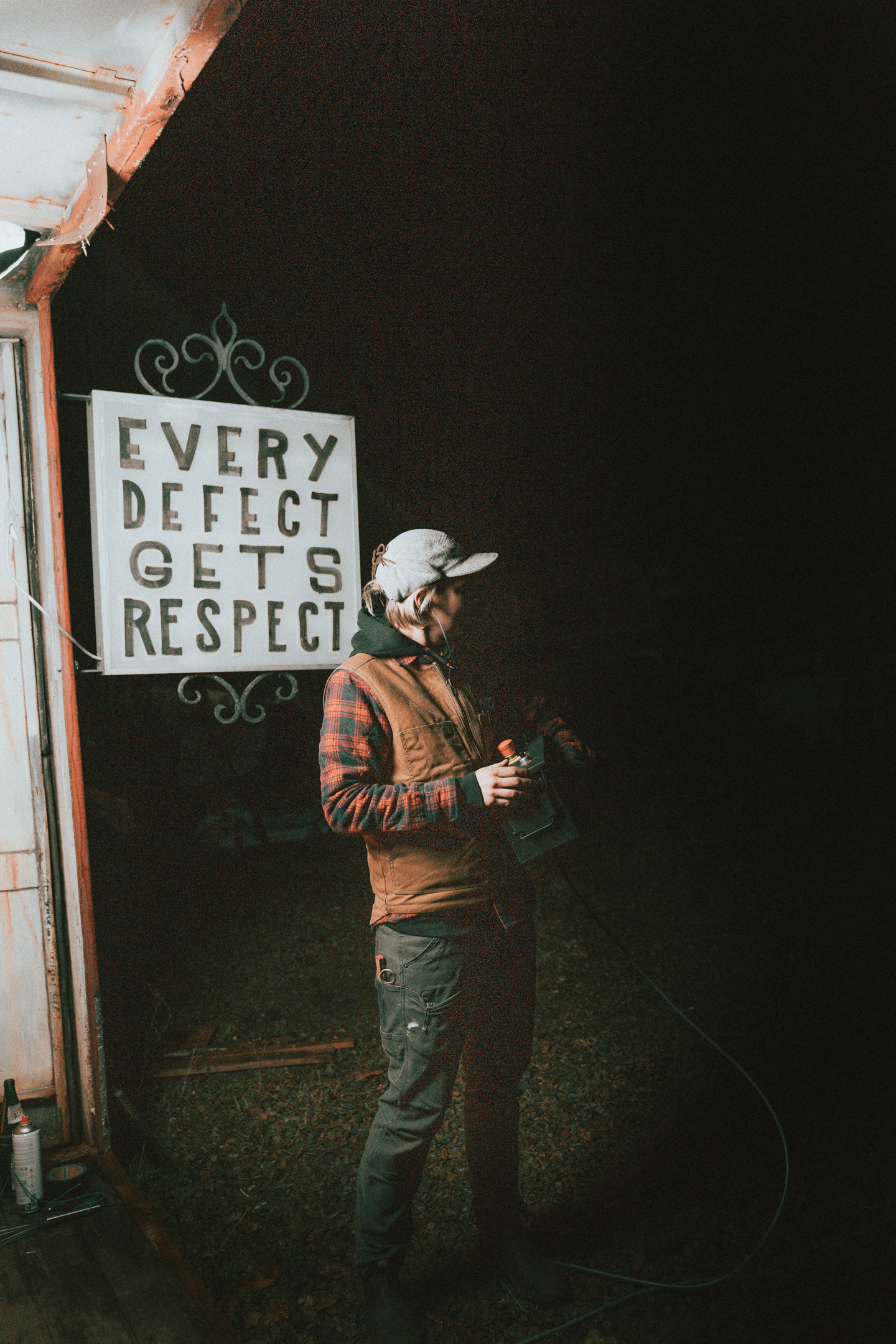 Have you tattooed yourself with the tattoo machine?
I wanted to and then, thank God, because I was really young, it's very likely that I would have done that, a tattoo artist came by and I showed him the machine, and he was like, "Don't do it. It's running way too fast. You will make mincemeat out of your skin". But I bought pigs legs and pig's ears and tattooed them. I couldn't eat pig for probably two years after that. It was so warm, and tattooing the piece for a couple hours, the fat was running out of it – it was disgusting.
It's interesting that if you look at the stuff that you're making now, the anchor point that started all of this is a prison tattoo machine.
Looking back, I remember the little things that I made; when I showed them to people, they just didn't show the same excitement for them as I did. And it was such a disappointment until I realised that no, the stuff I was making was really bad. That's why no one was excited, because I didn't know what I was doing. Once I got better and better, and especially with YouTube and talking to the community – well, I'm preaching to the choir here; everyone knows making is fantastic, and we have a very focused, niche community – and they get it.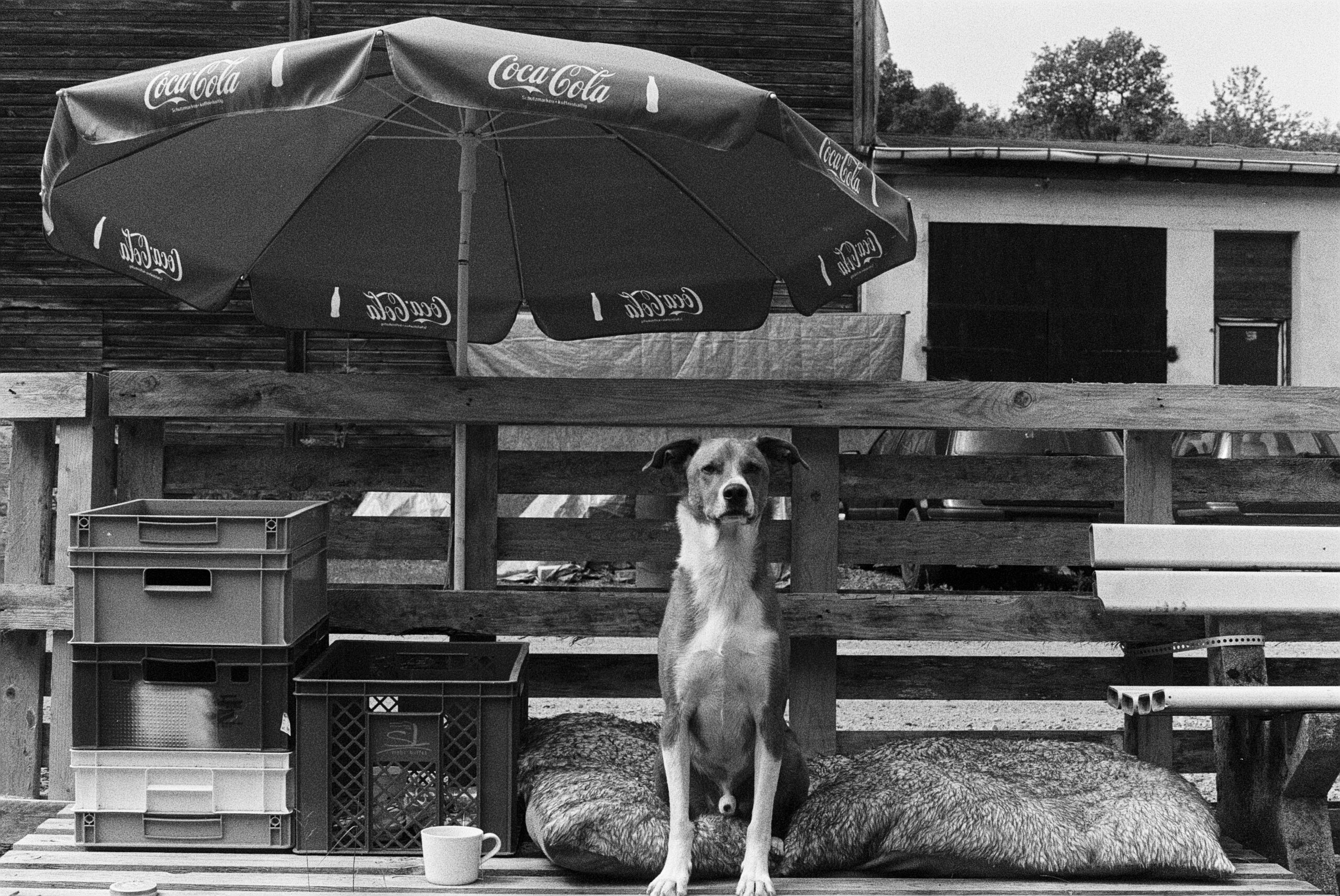 Do you feel like a bit of a sense of responsibility being a woman in this community, being queer in this community? Two of the things that are a minority in this field. Do you feel that affects your work at all?
I didn't to begin with, I have to say. In the beginning, I felt more that it wasn't about me, it was about the things that I make, and my sexuality and my gender don't play a role in this. I don't think about my sexuality all day long; I don't think about the fact I'm a girl all day long, so why would it be in my videos? But I have to say that I changed my mind about these things. Because visibility is really important.
I had this really weird experience at the 10 Maker event a few years ago. I was wearing this T-shirt I got for free on one Christopher Street Day, it says 'Gay Okay'. I love that shirt; it's a really nice fit. I went to get some groceries with Brett from Skull and Spade and Hassan from HABU, and there was this girl, maybe eleven or twelve years old, and she saw me wearing that shirt, hanging out with regular dudes, doing regular stuff in a regular supermarket, and her jaw dropped. We were in the countryside, you don't see things like rainbow flags there. And I could tell she's maybe gay too, and it was so good for her to see that. There's nothing different about you – you can still hang out with guys, you can still, you know, go shopping and all these things. That's when I realised, institutions like Christopher Street Day are so important, but it's also important to just have it integrated into regular stuff, not just special occasions. Today's International Women's Day? Well, we need to celebrate girls every day; every day you need to celebrate these things.
So, I kind of made it a habit to have rainbow flags in my videos. Not every video, and never super-obvious, but in the background, when I talk to the camera sometimes. I do wear my Gay Okay shirt every once in a while. I don't want to make it a point because people like to put you in drawers. And, once you're the queer maker, you're the queer maker, and that's all people want to talk about. And I don't want that because I still think, at the end of the day, it's about the things I build and not about me and my sexuality and gender. But, yeah, to just sprinkle it in every once in a while, I think it's very important.
I don't get much negativity about this. I was surprised, pleasantly so, obviously, but yeah, a couple of days ago, I wore my Gay Okay t-shirt in my Instagram Stories, and people applauded me for it, and that's really interesting. I would never have thought that.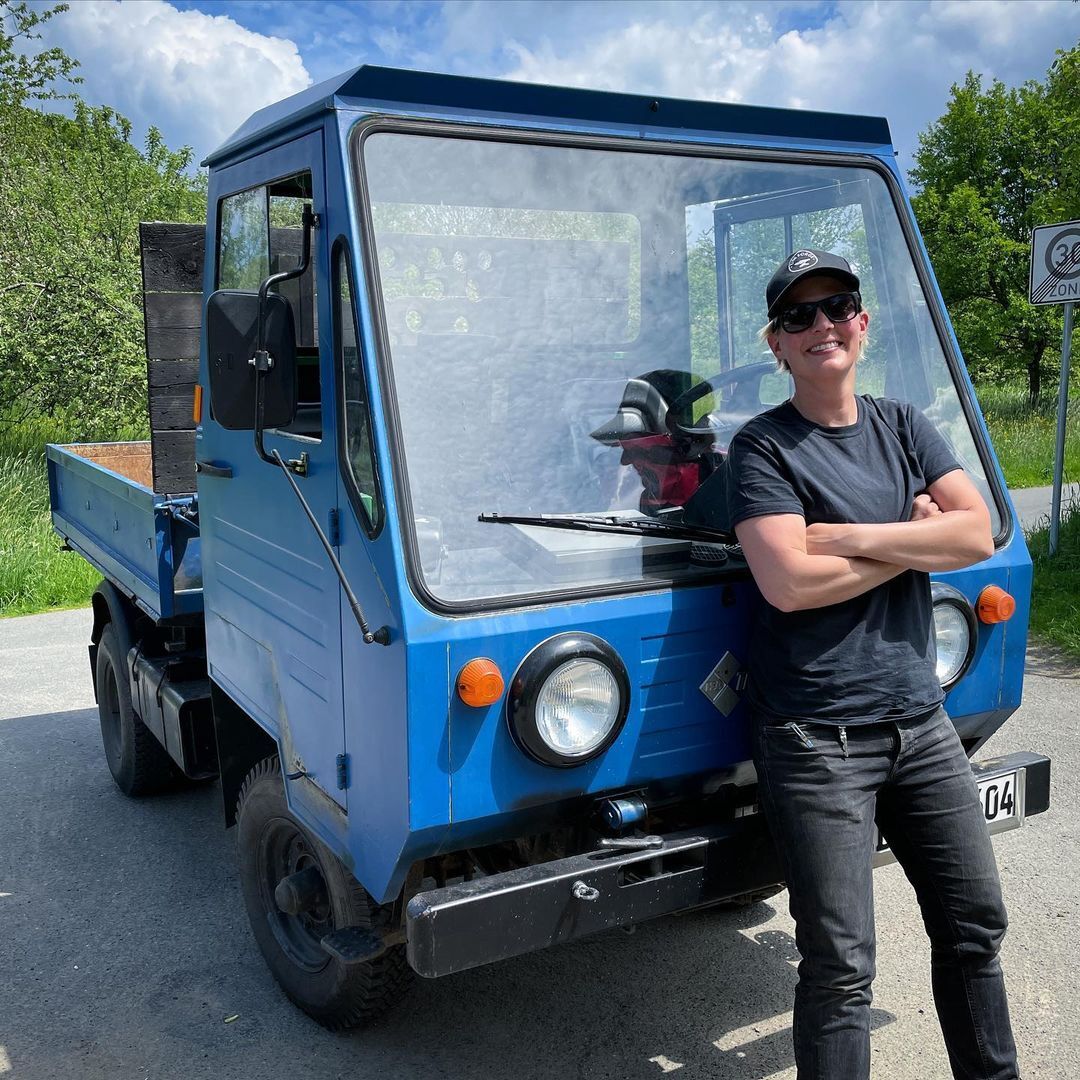 Do you get much trolling at all? Or are you spared from it?
I think, at the beginning of my YouTube career, I was growing really fast and really, like, exponentially. And I had a couple of videos that went viral, like the beer bike, that went outside of the community. For those viral videos, you get negativity. They don't know who you are, they don't know the context, they don't know what I'm doing. That's why I hate having viral videos. It brings in the worst. I like to be in this little lake, surrounded by my followers.
A few people have said that, actually. That it's the worst. It's the thing everybody aims for and then, when you get there, you wish you weren't.
Yeah, they take you out of context. Those people, they see one of my videos, they don't know that I'm building something. And that's another interesting thing that your community learns about you. They know I build something every week for the past six years. Every week, it can't be the Holy Grail every freaking week. Sometimes it's bad, but it's stuff that I did that week – it's documentation.
When I was a kid, I remember my mind was blown that The Simpsons had a different intro every episode. Something different happens every time. I couldn't believe that, and how much work went into it. I think it primed me for being a weekly creator.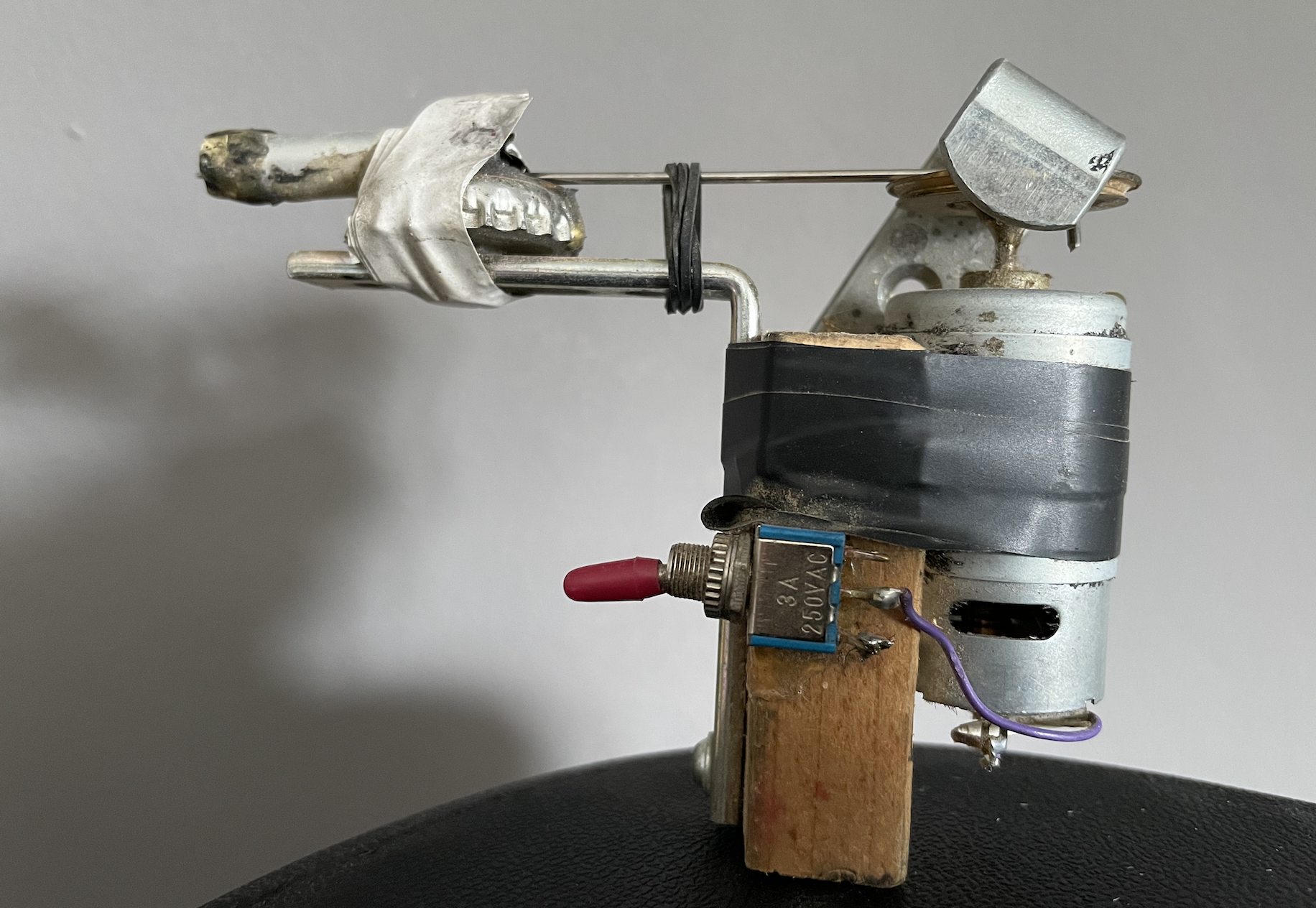 It's impressive. There aren't a lot of makers releasing weekly videos, and many that do are releasing build videos in weekly parts. And you just come along and go ta-da!
Haha, but not every video is a good idea. Some of them are really bad ideas. But that's my privilege, you know, that I can still do that. Because I have to, otherwise there wouldn't be a video, and I love that because the pressure helps me keep going. And the process is the same. It doesn't matter if you're building a tiny house or a scratch post for a cat. The process is me, being in the shop, listening to podcasts, listening to music, enjoying my tools, playing with the material – it's all the same, it doesn't really matter.
So, the public bench stuff that I've been doing lately, I get so many questions like, "Oh no, how could you leave the bench" and, like, I don't give a damn about the bench. It's not the bench, it's the process that I enjoy. I could literally throw everything that I build away – I could throw it in the trash right away. I wouldn't mind. I'm so focused on the process.
I was going to ask you about the bench, because it was recently vandalised and so you made another one. Most people would probably just not, would just raise their hands in defeat and leave it. But you just made it again.
I was expecting it to break eventually. And, to be honest, I was kinda hoping for it because I wanted to do it again. And, this time, I'm actually hoping for it to get broken again because I want to do it again.
I may be making this up, but I'm sure you once mentioned that it's illegal to sell furniture in Germany unless you're registered. Is that right?
Yeah, it's a very broad description of this, but the craftsmanship in Germany is of a very high standard, right? At least we like to think so. So, if you want to be a carpenter, you're first an apprentice for three years or so, then you can be a carpenter and work under a master carpenter. If you want to educate other apprentices, or if you want to sell certain furniture, I think chairs is one of them, then you have to be a master. And it's the same for every field. I think the most plausible is electricians. If you are not a master electrician, you cannot, say, make a lamp and sell it.
But my interest is so general. I wanted to make lamps, but the notion of designing a lamp that's made out of wood and then obviously has electricity in it, it's just impossible.
I spoke to the TÜV and asked them, if I design a lamp and want to sell it in a store, how do I do it. And I would have to get it checked by their institution, which is a couple of hundred euros, and get a certificate. But I would have to do this for the next lamp design, and the next. And that makes them so expensive. I can't sell a lamp for 150 euros if it costs me more than that to get it checked. I'm not interested in mass production, I want to make one-off pieces.
I had already quit my job when I discovered this and remember having a big knot in my stomach thinking, 'what do I do?', and YouTube was the answer.
Could you not use YouTube as a way of selling lamps? It's not a lamp, it's a video prop?
Yeah, there are loopholes – this is not a lamp, this is art. But, when I quit my job to become a self-employed lamp seller, I really only quit my job because I hated working for other people, not because it was my dream to sell furniture and lamps. I didn't know YouTube really existed as a thing for me, and once I figured out people were actually making money off this, I was like, OK, I need to get a camera, I need to give this a try. Because that would be better than building stuff to sell it. I wasn't interested in selling stuff. I don't want clients. I don't want that pressure from anyone else except me, so YouTube worked out perfectly for me.
The job you quit was as a Display Artist for Urban Outfitters, if I remember correctly? Designing displays within a store. That sounded like a brilliant job.
It was. It was a great job, but it wasn't for me. It was probably the perfect job, but I am not a good employee. I was asked a couple of years ago if I would do a talk about my career and how I made this job for myself and followed my dreams, blah, blah. I don't like 'follow your dreams'. It was the other way around. I avoided my nightmares. That's how I got here. I never dreamed of this, I didn't know this existed. So, I think avoiding your nightmares is much more efficient than following your dreams.
With your design school background, when you create something, how much of that project is art over functionality? Dovetails versus pocket holes for instance.
It's more, and this is hard to explain, but I have this internal measuring unit of how much work should go into a project. I know how much time I can put into a project, and there's this bucket of work I've put into it, and depending on how full the bucket is determines how the project looks and whether I use pocket holes or dovetails, for example.
You work a lot with wood and with metal, as well as a few other materials, all of which require their own set of skills. Where have you learned all your techniques?
All YouTube. That's the cool thing. It's all full circle. There are some things – I had a couple of jobs where I learned some skills. I worked as a flight case builder for three years, just filling those black flight cases. Which sounds very, very trivial. It's not though, It's crazy. You have to work so precisely, otherwise, the catches won't close and all these things, and everything is building boxes. So I learned a bunch of stuff there. It was my Karate Kid apprenticeship. But a lot of it is YouTube. I remember watching Jimmy DiResta – I saw his TV show online, and then I watched a bunch of his videos without realising it was the same guy. Eventually, I noticed he had a weekly schedule and a podcast, and it was all exactly what I needed to see and hear. Right when I quit my job and I couldn't sell lamps, there were these people telling me that they do this for a living. It was perfect timing. I feel like I'm the second generation YouTuber and they're the first.
As well as those makers, what else influences your work?
I like to listen to a lot of hip-hop, like super-aggressive hip-hop that is the complete opposite of me and has nothing to do with my world. And I like to watch horror movies, super-scary and bloody horror movies. I like to explore the opposite of what I have. A view into a completely different world. The Fantasy Filmfest is a huge inspiration for me. These movies that go right to DVD; they don't go into the big theatres. I like to think about how they got made? How did they think of that? That's the biggest inspiration. And, with hip-hop, the personas, and why they feel like they do, and how do they come up with those lines. They're in their own universe, they have their own rules. I just love that. It's how I feel when I'm building stuff. I'm telling myself a story that I don't know the ending of. I don't like to make sketches, I don't like to know if it works. If I see someone else had the idea and did a full video about it, I don't even want to do the idea anymore. I want to have that unknown. This is the idea, this is the stuff you have, now try to make it happen.
Is there anything still on the list? Projects you still want to work on?
I don't know if you saw it on Instagram, but I bought a Multicar. It's so good. It's the slowest car ever; it is painfully slow – 45 kilometres an hour and that's it. But it has torque; you can tow pretty much everything with it. So my plan is to take the world's smallest pub that I built a couple months ago and put it on at the back of the Multicar.
Something is holding me back at the moment, though. I have all the parts, I should be able to do it, but I don't know what it is. I experience that quite often – I have an idea, and everything should be good to go, but I'm not doing it. And then, eventually, it turns out I wasn't sure about the colour, or something else that was missing that I didn't know at the time. So I don't push it. But that's the project I'm looking forward to.
Do you think you'll ever just get to the point where you're going to stop doing weekly videos? Or is this you for life?
I don't know. Like, that's the one thing that I'm really scared of, like, what happens when I get sick? Because at the beginning of the year, I hired my best friend. So now we're both relying on my mental and physical health. So I think it's a good idea to broaden stuff and have more income streams. I love doing the TV stuff [Laura recently started presenting a new TV show], because whenever I'm working with the TV people, I think, like, oh man, I love YouTube. And, when I do too much YouTube, I start really looking forward to working with actual professionals again. It's a cool balance. I kind of hope that I can keep doing this. You know, I think it's really cool. And as I said, there's no other place for me. Where would I go?
You have YouTube, you have TV, you have your podcast, and you sell merchandise. Is there anything left?
I think I would like to actually have a couple of products now. Some of the furniture I'm building, if you look at them in a different context to 'this is just what I built this week' and is only the product of seven days' worth of work, I think some of those ideas aren't that bad. And if you put some more work into them, they could be pieces that would sell. But I would want someone who takes the prototypes and does the whole production for me. I'm not interested in all that. But I think it would be cool to have a line of plywood furniture.
So we won't be seeing a run of the Laura Kampf bench across Köln?
A newspaper interviewed me about the bench. And for the interview, they also approached the city saying, hey, wouldn't you want to work with her? And you know, maybe collaborate on this because this might be a cool thing. And they said that they don't have the personnel. But honestly, if they would have done it, that would have made it so boring. Working with somebody in an office telling me where the broken benches are so I can go and fix them. That's a job.
Is there anything you've ever made that you haven't wanted to share? A build just for you?
Until I hit publish, I feel like that every week. It feels like I'm just making it for myself. I talk very positively about YouTube, and that's genuinely how I feel about it, but sometimes it's really hard on me because I'll work seven days on a video, think it's the best thing I ever did, and it makes me so happy. I'll edit it for hours, sink all this time into it, all this energy, and then the video tanks, and it kinda ruins it for me. I'm in a super-good mood right now because the bench video did so well, and people understand what I'm trying to say. But, there are other cases where it doesn't work as well, and where I feel like I've dropped the ball and couldn't get my excitement across. And that's always super-disappointing because I'm always excited about the stuff I make; I always have some angle I find super-interesting, otherwise, I'm not motivated to do it. And, when the video tanks, it makes me feel like I lost the opportunity to spread that excitement, to spread that motivation, and that feels like I wasted my time. And that's the downside of YouTube.
I mean, I think every creator takes it in a different way. And you need to find a way to deal with this, and it's really important to talk about it. This is my dream job and I can do whatever I want to do as long as I don't drop the ball. I hired my friend, so now I can't drop the ball for the both of us.
Laura Kampf produces a video every Sunday on her YouTube channel. You can also follow her on Instagram and, for any German-speaking readers, her podcast – Raabe & Kampf – with friend and journalist Melanie Raabe can be found wherever you listen to podcasts. 
HackSpace magazine issue 45 out NOW!
Each month, HackSpace magazine brings you the best projects, tips, tricks and tutorials from the makersphere. You can get it from the Raspberry Pi Press online store or your local newsagents.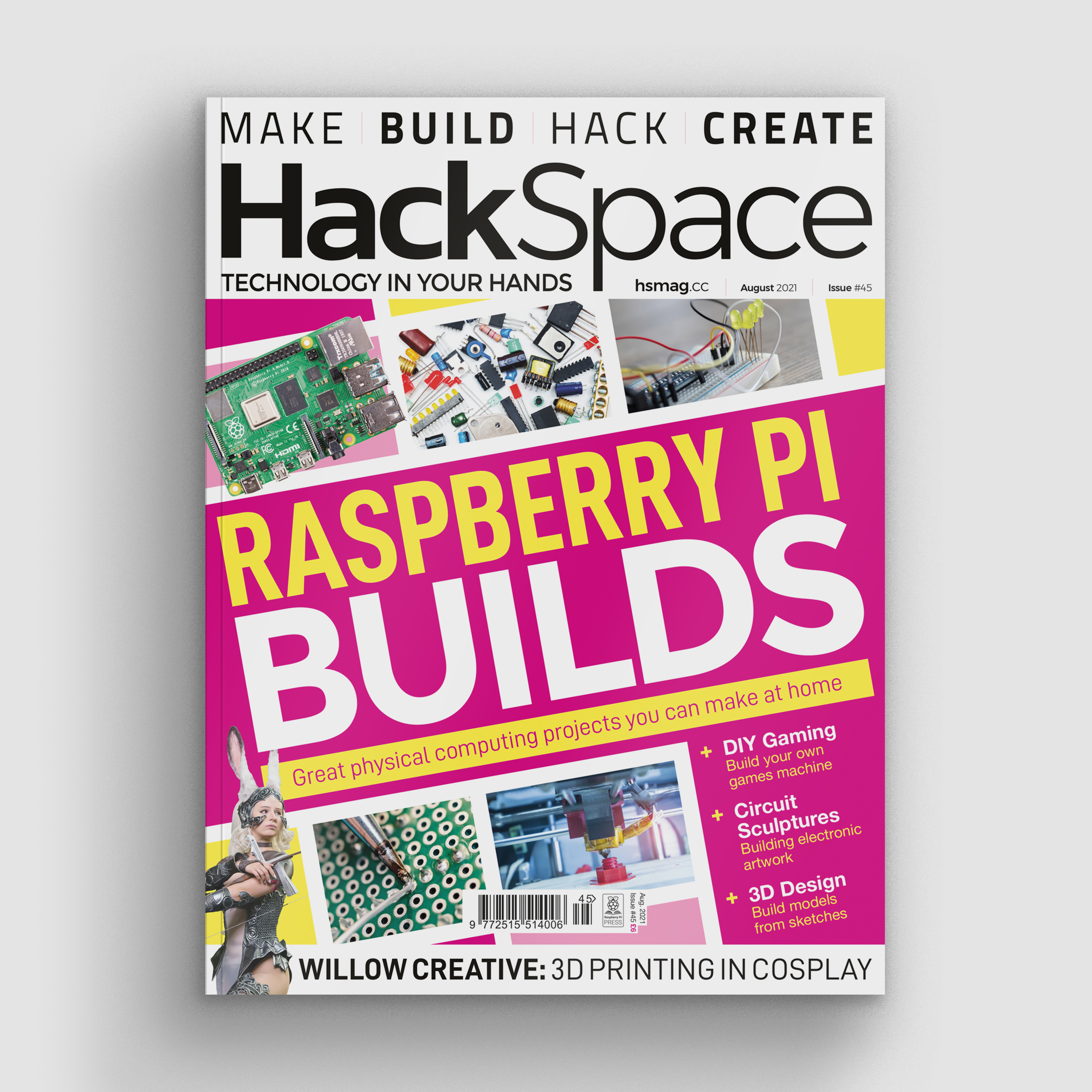 As always, every issue is free to download from the HackSpace magazine website.
The post Meet Laura Kampf: Wood and metalworker appeared first on Raspberry Pi.