Post Syndicated from Meg Wang original https://www.raspberrypi.org/blog/hello-world-22-ai-education/
Recent developments in artificial intelligence are changing how the world sees computing and challenging computing educators to rethink their approach to teaching. In the brand-new issue of Hello World, out today for free, we tackle some big questions about AI and computing education. We also get practical with resources for your classroom.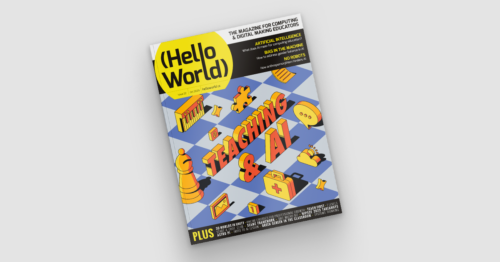 Teaching and AI
In their articles for issue 22, educators explore a range of topics related to teaching and AI, including what is AI literacy and how do we teach it; gender bias in AI and what we can do about it; how to speak to young children about AI; and why anthropomorphism hinders learners' understanding of AI.
Our feature articles also include a research digest on AI ethics for children, and of course hands-on examples of AI lessons for your learners.
A snapshot of AI education
Hello World issue 22 is a comprehensive snapshot of the current landscape of AI education. Ben Garside, Learning Manager for our Experience AI programme and guest editor of this issue, says:
"When I was teaching in the classroom, I used to enjoy getting to grips with new technological advances and finding ways in which I could bring them into school and excite the students I taught. Occasionally, during the busiest of times, I'd also look longingly at other subjects and be jealous that their curriculum appeared to be more static than ours (probably a huge misconception on my behalf)."
It's inspiring for me to see how the education community is reacting to the opportunities that AI can provide.

Ben Garside
"It's inspiring for me to see how the education community is reacting to the opportunities that AI can provide. Of course, there are elements of AI where we need to tread carefully and be very cautious in our approach, but what you'll see in this magazine is educators who are thinking creatively in this space."
Download Hello World issue 22 for free
AI is a topic we've addressed before in Hello World, and we'll keep covering this rapidly evolving area in future. We hope this issue gives you plenty of ideas to take away and build upon.
Also in issue 22:
Vocational training for young people
Making the most of online educator training
News about BBC micro:bit
An insight into the WiPSCE 2023 conference for teachers and educators
And much, much more
You can download your free PDF issue now, or purchase a print copy from our store. UK-based subscribers for a free print edition can expect their copies to arrive in the mail this week.
Send us a message or tag us on social media to let us know which articles have made you think and, most importantly, which will help you with your teaching.
The post Hello World #22 out now: Teaching and AI appeared first on Raspberry Pi Foundation.